Experimenting
Towards Leadership

2. Experimenting

The next step, now that you think you have found your way, is to walk it. It is the time to experiment and learn by trial and error. You can do this by volunteering for an issue of your interest. Make informal groups/ clubs on theatre, music, film or art. You could also engage in organizing events or activities with other young people to build your leadership.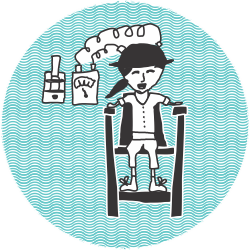 Cast in Stone
A leadership journey was launched at Anhad Pravah to create a learning opportunity for the volunteers on caste based exclusion. The purpose of this journey was enable volunteers to build a deeper understanding on the issues of social exclusion, develop skills of inclusive relationships and actively lead social change process within their circle of influence. This intervention was supported by Christian Aid and Pravah.
Anhad Pravah facilitated this journey for 2 continuous years with 40 young people from extremely diverse backgrounds. These people through campaigns and other social action projects reached out to 1000+ people.
---
Bus Campaign
बस! Stop Discrimination Right Now was a campaign on wheels that called on young people to engage, inspire and act on issues of social exclusion. The campaign was conceptualized and lead by Commutiny the Youth Collective, New Delhi. The campaign travelled through a specially designed bus to different cities and came to Indore in May 2015. Here the campaign was hosted by Anhad Pravah for 10 days and reached out to 2500 people from diverse backgrounds. Many events, sessions, exposure visits were done during this period all managed and facilitate with support from the volunteers of Anhad Pravah.
---
The Malwa Kabir Yatra
A journey that starts every year from Kabir dham, Luniyakhedi and travels to different villages of Madhya Pradesh for 4-5 days. This is a very special yatra that carries music, musicians, listeners, travellers, seekers, nomads, old, young, rich and poor... everyone together at the same time, on the same path.
The experience of listening musicians from different regions, singing in different languages becomes an overwhelming experience. At the Malwa Kabir Yatra every year volunteers of Anhad help in managing the yatra, host the programme at Indore and become the yatri themselves to experience the music and musicians from close distance.
The yatra becomes a starting point for volunteers to know the influence behind its origin; and to understand how Kabir influenced people from different religion and regions so much so that Kabir Panth itself has become religion of the people from marginalized sections of society.
Feedback
"इस यात्रा में जो मुझे सबसे ज्यादा मिला, वह था प्यार और अपनापन. जिन लोगों से मैं पहली बार मिला था, वो भी मुझसे ऐसे मिल रहे थे जैसे सालों से मुझे जानते हों. संगीत मेरा प्यार है और कलाकारों से मिलने का अनुभव, उन्हें बैक स्टेज देखने का अनुभव शानदार था. मैं जो सोच कर गया था वो मुझे मिला और उसके अलावा भी मैंने बहुत कुछ सीखा." आदित्य काप्रे
---
Thinking beyond the Immediate-Rediscovering Monuments and Cultures.
We often see history as things of past and monuments as mere touristic places, but if we pause and think a little then the realizations comes that our present is built on past and future will built on today. As humans the biggest gift we have received from nature is the ability to learn, life is a complex web and to unearth learning from it is to be able to go back in that past and be able to see it from all possible viewing points. Malwa is rich with immense cultural, monumental and human civilization legacies, Mandu being one such significant example. The first Programme in this series was done at Mandu with the students from Daly College and Assam Valley School.
---
Building it together
Building it together is leadership workshop specially designed for the Student's Council of schools. Aim of this workshop is to build leadership skills of the council members to work effectively and create empowering & safe learning spaces within the school for all the students. The workshop is designed on the basis of the learning needs expressed by the council members, teachers and principal of the respective school.
Feedback
Vanshika Saxena: I have learnt many things, like how to manage people, how to work like a team. My public speaking skills have been enhanced and I have learnt to control my emotions. I will always remember what people think about me. I have realized a lot where I am lacking, what my strength is and how to use my strength and how to overcome my weaknesses.
Sarthak Rege: I have learnt many things from this workshop. For example we learnt the meaning of the jargons we use. I also came to know what others think about me. I would like to change my soft attitude and will empower other s while having a power.
---